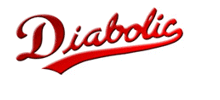 Diabolic DVDs



Diabolic was founded in the mid 1990's by Gregg Allan, and Anabolic Video head Christopher Alexander. On January 15th, 1998, Diabolic Video released its first video. In the late 1990s/early 2000s, directors like Vince Vouyer, Erik Everhard, Jon Dough and Lexington Steele created some of the most critically acclaimed gonzo on the market.

Vouyer's exit to form Red Light District Video in 2002 eventually led to the mass exodus of 2004, which saw Everhard, Steele and Mike John flee for Red Light, and Dough leave for Devil's Film, where the directors were able to own their own movies.

In May 2007, Gregg Allan left his post as head of sales at Anabolic. Anabolic and Diabolic were no longer affiliated with each other with Diabolic adopting a new marketing, branding strategy and started filming in high definition DVD.